Though the building, located outside of Mexico City, might seem brutal at first, its emphasis on and integration with nature hides in the underbelly.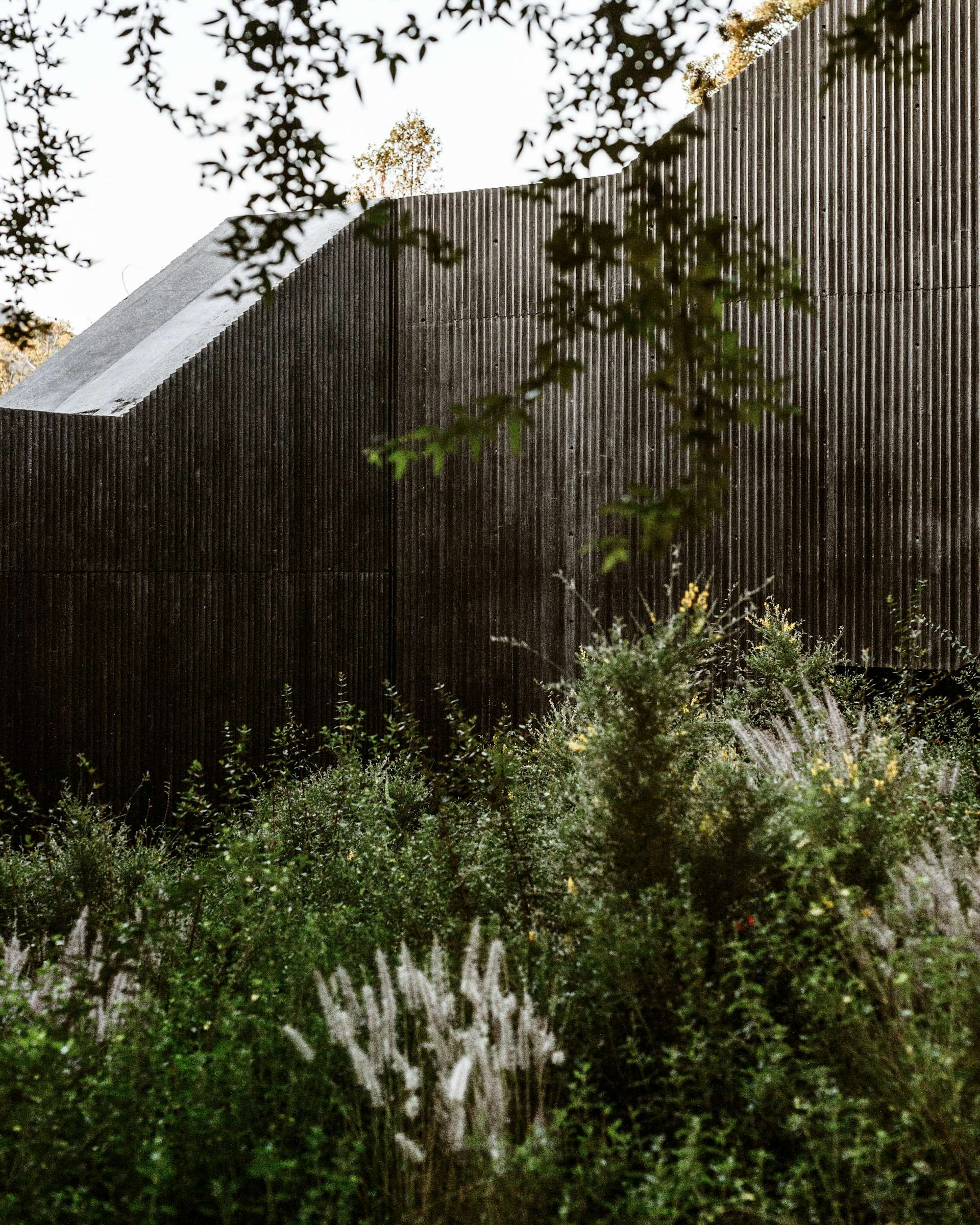 The neighborhood of Hacienda de Valle Escondido, about an hour north of Mexico City in Zona Esmeralda, is part of a larger development that began years ago, encouraging people to invest in a quieter, greener lifestyle. "The idea was to live in the countryside, in the forest, with a low-density population and a lot of nature," architect Michel Rojkind says.
It's here that he completed his most recent residence project, Casa Pasiddhi, which he designed for his childhood friend Jorge Pliego; Jorge's wife, Cony Mier; and their 19-year-old twins. Jorge and Michel grew up in nearby Ciudad Satélite, another residential development, which was designed by architects Mario Pani and José Luis Cuevas Pietrasanta. It was a relatively walkable and bikeable neighborhood until Mexico City's sprawl of freeways took over. Jorge and Michel's shared love of architecture started early; growing up, they often visited architect Javier Senosiain, Michel's neighbor at the time, and hung out in Torres de Satélite, the iconic plaza designed by Luis Barragán, Mathias Goeritz, and Jesús Reyes Ferreira.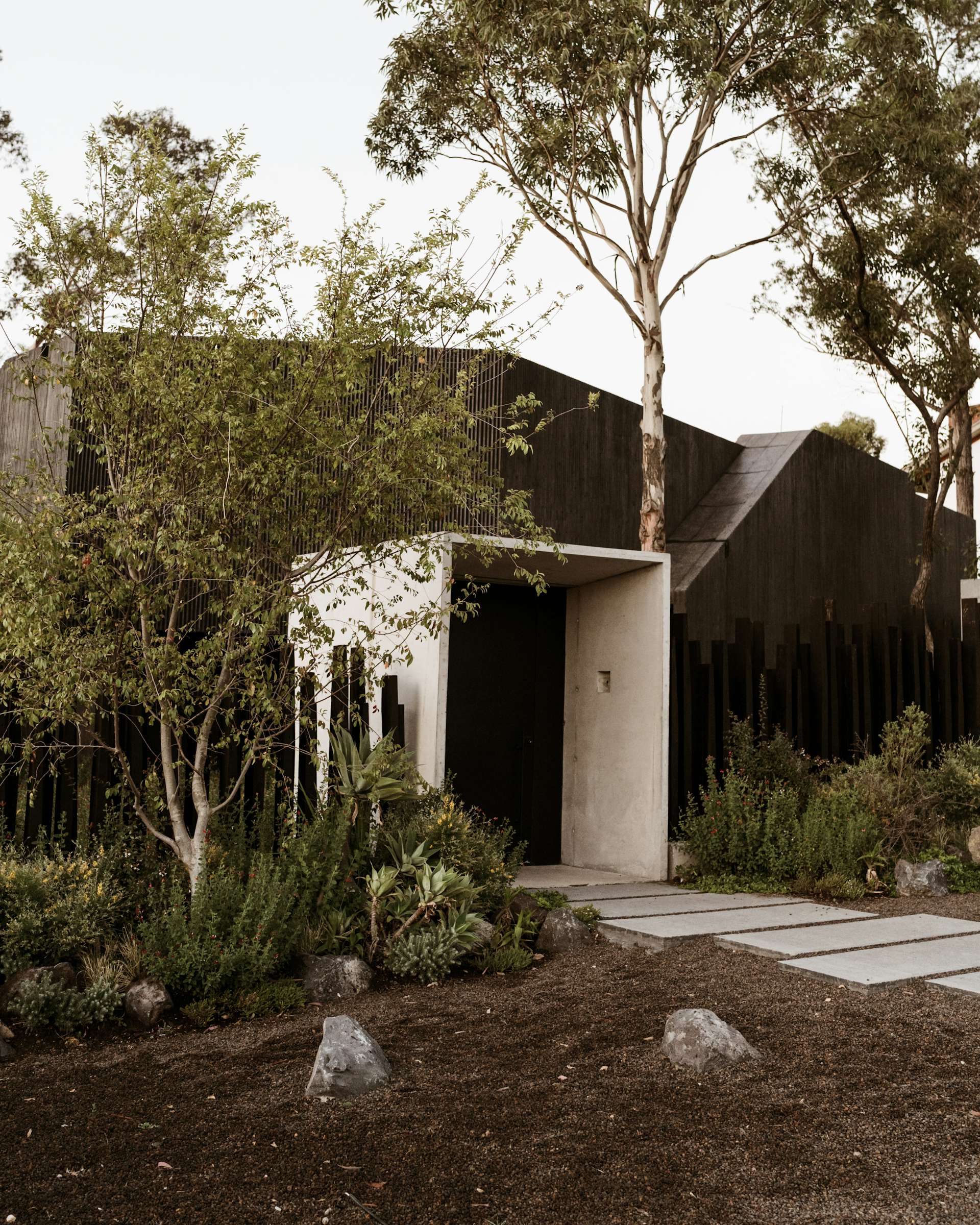 To reach Jorge and Cony's house, I drive by homes in a mélange of styles, some of which are listed online as "colonial," "contemporary Mexican," or "European mansion." But none of them stop me in my tracks until I reach Casa Pasiddhi's unassuming facade. A row of blackened wood posts that were used to prop up the house during construction makes up an irregular six-foot fence with a simple black metal door framed in a concrete cube, the latter reminiscent of Donald Judd's 15 untitled works in concrete.
I am met outside by Jorge and his Jack Russell terrier, Messi (as in Lionel), and once I enter, a black textured windowless block seems to float atop an endemic garden, calling to mind the architect's Foro Boca concert hall in Veracruz, which likewise employs a custom concrete facade made with patterned wooden slabs.
The beginning and the end of the serpentine-like shape lead to dim, skylit staircases and corridors with polished concrete floors that route to the primary bedroom on one side and the two kids' bedrooms on the other. Each walkway eventually leads to the living/dining room.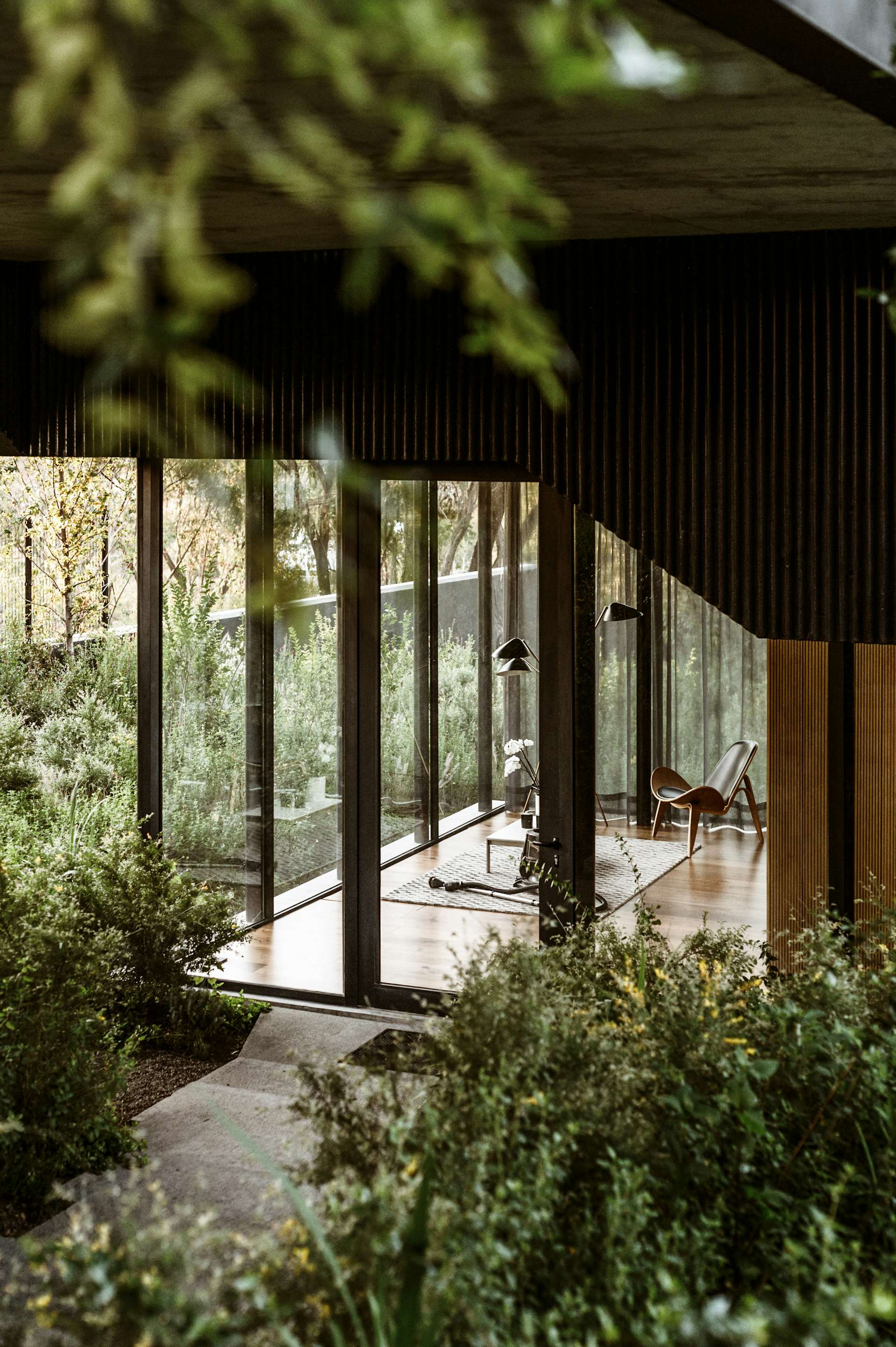 "The main circulation becomes the volume of black concrete—a little more intimate and introspective—and when you are through, this bright space is thrown at you where large windows open toward the landscape. You go from dark to light, from the silent to the extroverted. There is a very beautiful relation of interior and exterior," Michel says. "And the circulation forms a central court-yard—green, very pretty."
Jorge, a professional soccer coach certified by the Federación Mexicana de Fútbol, a road biker, and an investment banker, first walks me through the garden and down some steps to the main entrance, a vestibule surrounded by glass walls that then gives way to the open living and dining area, which overlooks the backyard. He's on-brand with the house, wearing black from head to toe. I ask if he always dresses this way, and he meekly says, "Lately," though for the last 20 years, all his cars have been white: "They get less dirty."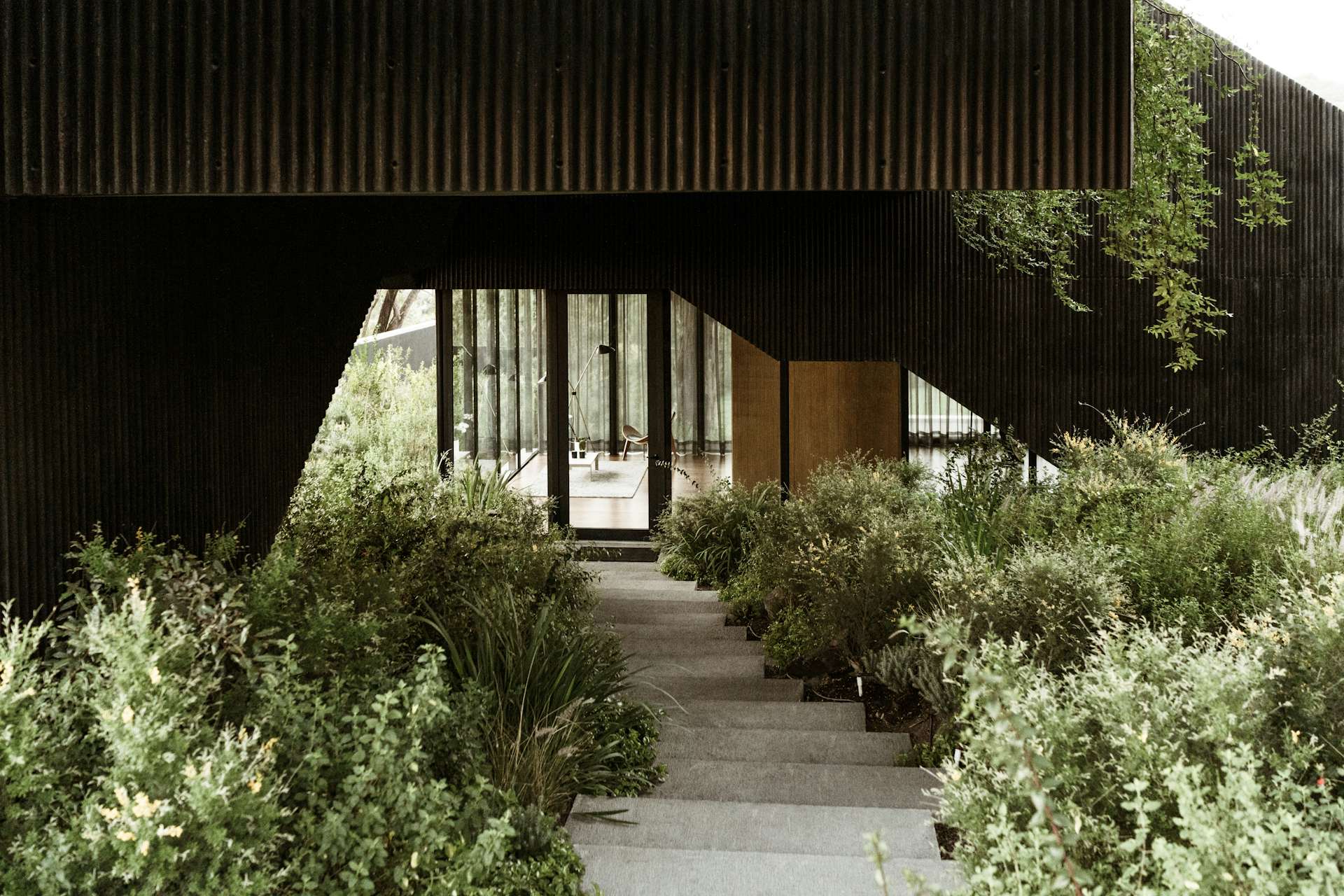 Cony, a practitioner of Jivamukti, Dharma, and Rocket yoga, named the couple's house as a nod to a Buddhist term that loosely translates to "place of peace," and she uses every space—indoors and out—to practice her asanas. Their children are in college abroad, but when the family is together, Jorge and his son, Daniel, both play the guitar, while his daughter, Michelle, plays piano in her bedroom.
Their love of music is likewise shared with Michel, who, while in architecture school, often toured as the drummer of the 1990s band Aleks Syntek y La Gente Normal. ("Teachers would often tell me, 'You're not going to be an architect. I see you on MTV. Don't waste my time,' to which I would respond, 'Judge the quality of the work I can give you and my ability to think about things that are important.'") "Rather than have the owners give me directions on the size of the room or kitchen they want, I ask them to please tell me how they get along with their children, what their relationship is like, if they are more introverted or extroverted, if they host people or not," Michel says. "It becomes a more intimate thing, about answering to what you want your house to be. Jorge and Cony are a relatively young, easygoing couple, and the house is a reflection of the two of them."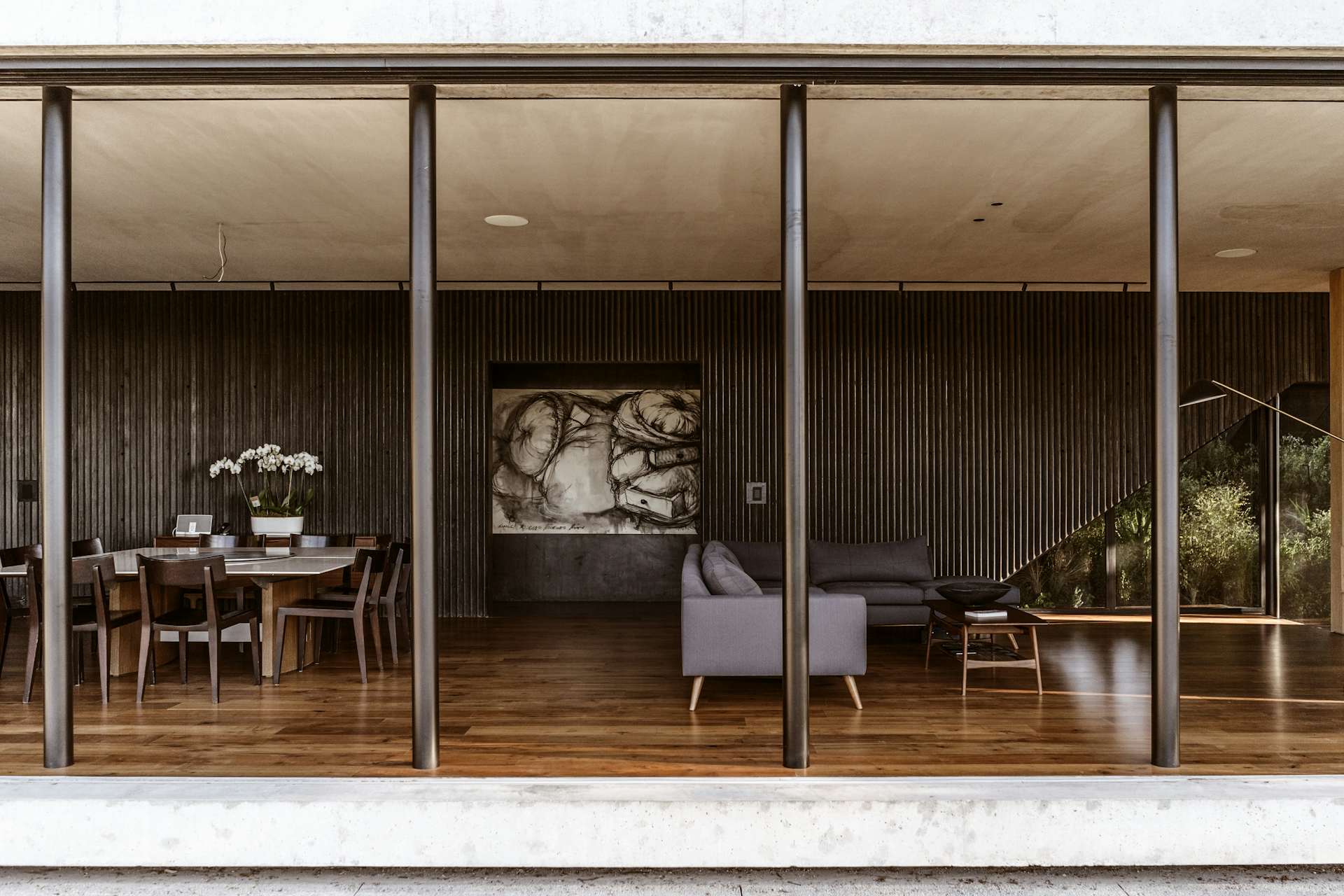 As with most of his projects, Michel prefers working collaboratively with other architects, contractors, and landscape designers rather than scaling up his own tight-knit firm. For Casa Pasiddhi, he tapped architects Agustín Pereyra and design group Inocente Colectivo, made up of Paulina Goycoolea and Alfonso Paz, who all followed the project from conceptualization to construction and completion.
The vertical striations on the board-formed concrete facade are subtly echoed in the woodwork indoors. Stand-alone wardrobe/headboards finished in grooved walnut marimba panels separate the bedrooms from their bathrooms. The pieces don't touch the ceiling; instead they project indirect light onto it. Reminiscent of Dr. Edith Farnsworth's Hi-Fi wardrobe in her famous late-1940s house in Plano, Illinois, by Mies van der Rohe, these custom pieces are equipped with smart speakers and lighting that can be dimmed and controlled from anywhere in the house. A similar piece made of oak wood is found by the main entrance in this case, enclosing a load-bearing core with the half bath on one side and bar on the other.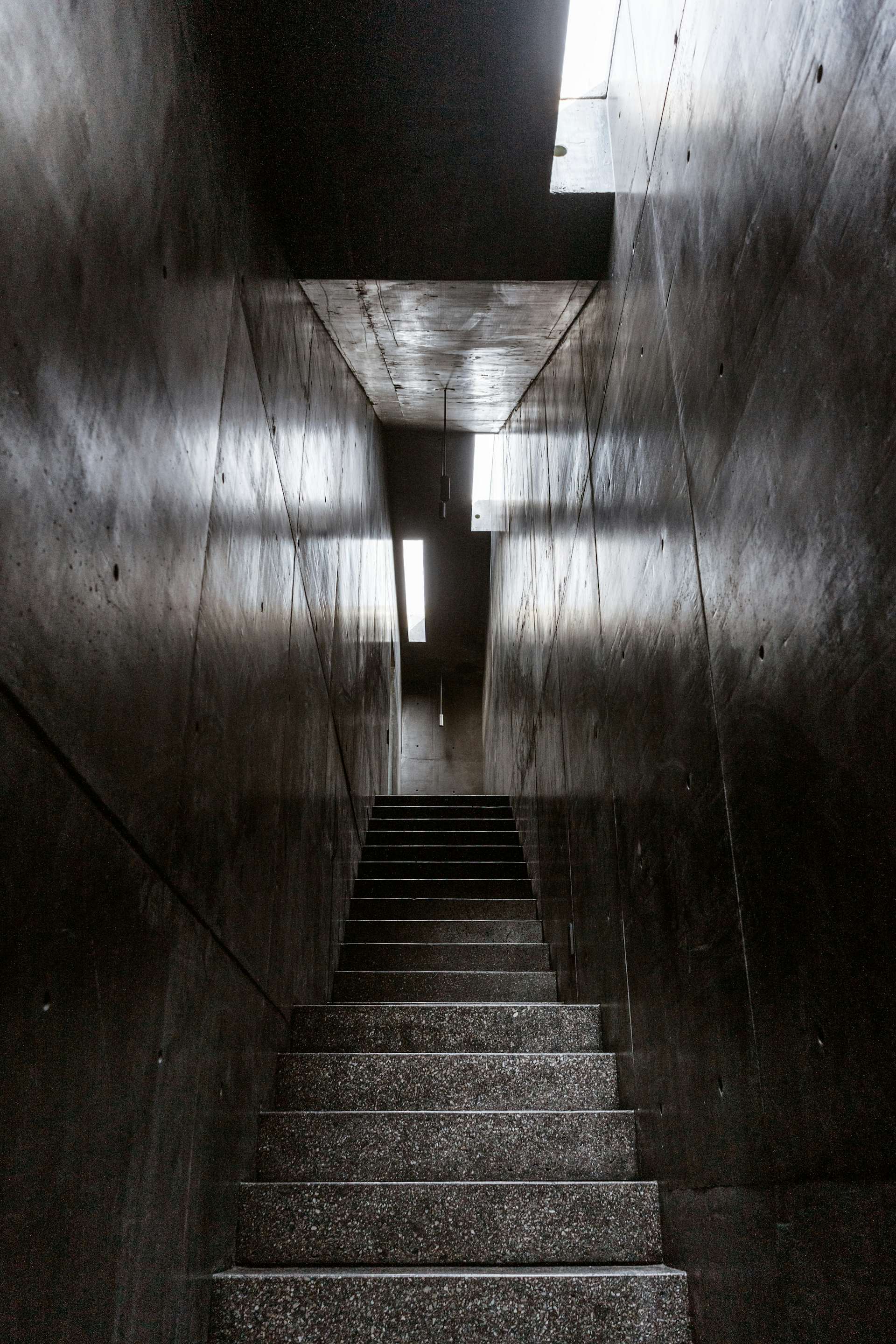 The house aspires to be self-sustaining. It has solar panels and rainwater-harvesting equipment but no heating—it wasn't needed. Despite the region's relatively cool temperatures, the orientation of the house and the materials chosen—hard aluminum window frames with two six-millimeter-thick tempered and ultraviolet-mitigating sheets of glass, and walnut hardwood floors—are enough to keep the place warm during winter nights. "I really fought for having heating installed, but I'm glad Michel fought back," says Jorge. His next-door neighbor, he tells me, uses about a tank of propane a month just to heat the house. Blackout curtains hang from a rail hidden in a slit cut into the bare concrete on the ceiling next to a thin strip of light.
Arca supplied the different types of marble and granite quietly present throughout the house. Each of the bathrooms has stone-covered walls—arabescato corchia marble in the main bathroom and sea flower granite in the kids'; travertino ocean blue and polished silk georgette for the half baths. The kitchen floor is finished in brushed galaxy granite.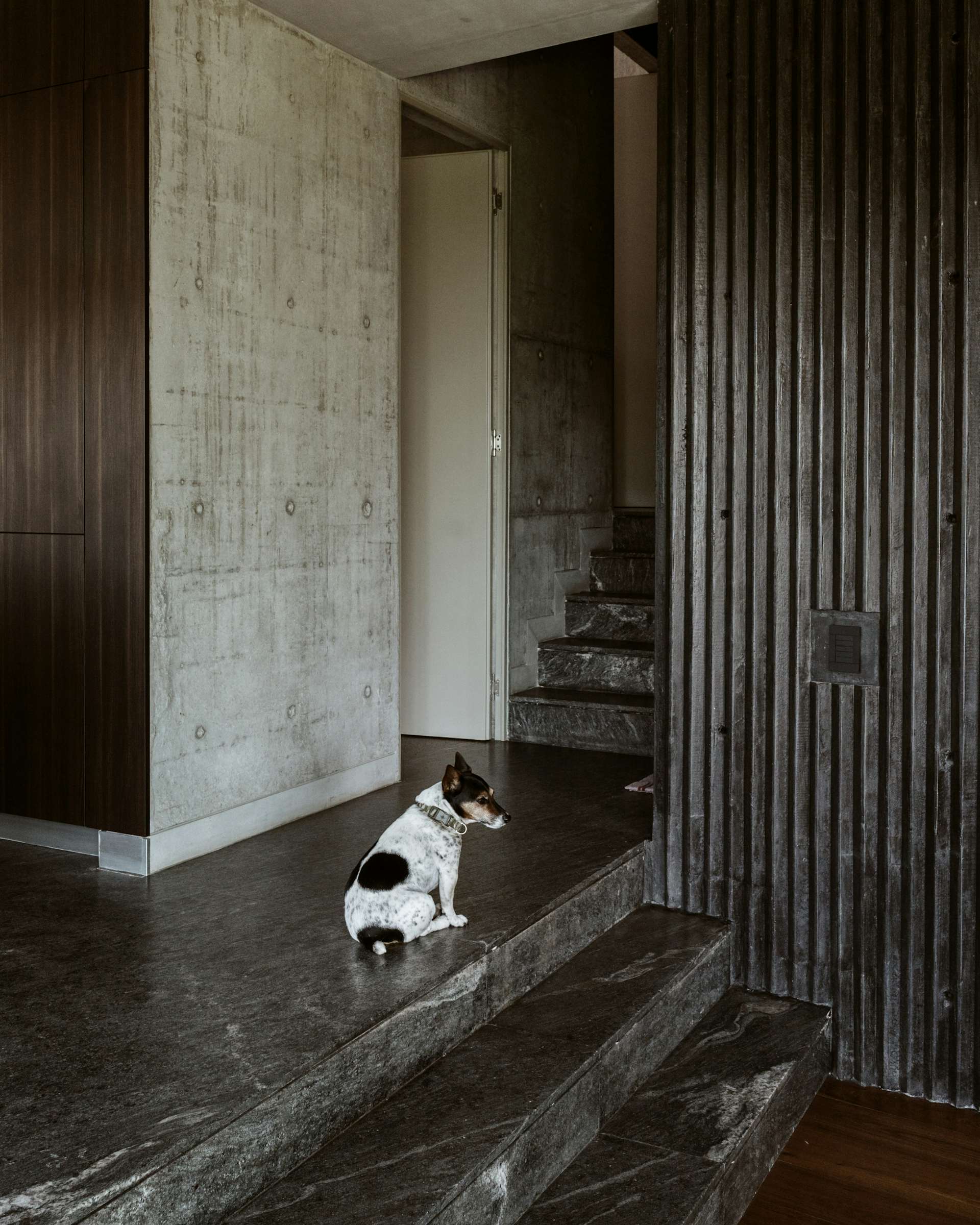 Jorge has kept some iconic pieces he has owned for some time now, including a Cuadra dining table designed by Simon Hamui that he's had for 22 years and a painting by Cuban artist Ángel Ricardo Ricardo Ríos. The latter is placed in the skylit nook where the hallway leading to the bedrooms parts left and right.
Like most properties in the gated community, this one is 2,000 square meters, but opposed to most, the area of construction is only 700, while the rest is all garden. "We wanted it to feel like the garden had always been there and the house just emerged from it," Pereyra says. "It was also supposed to feel like the serpentine volume doesn't really touch the ground—it does, but only on three points." Jorge knows every inch of the garden, too. He points out all the fruit trees and flowers—guava, tejocote, plum, peach, and lime trees—as well as the jacaranda, Chinese elm, and giant eucalyptus trees, which were there when he and his wife acquired the property. He points to a myrtle bush outside their bedroom. "These are infested with hummingbirds in the afternoons," Jorge says, "and you wouldn't believe the number of bees and bumblebees around the garden."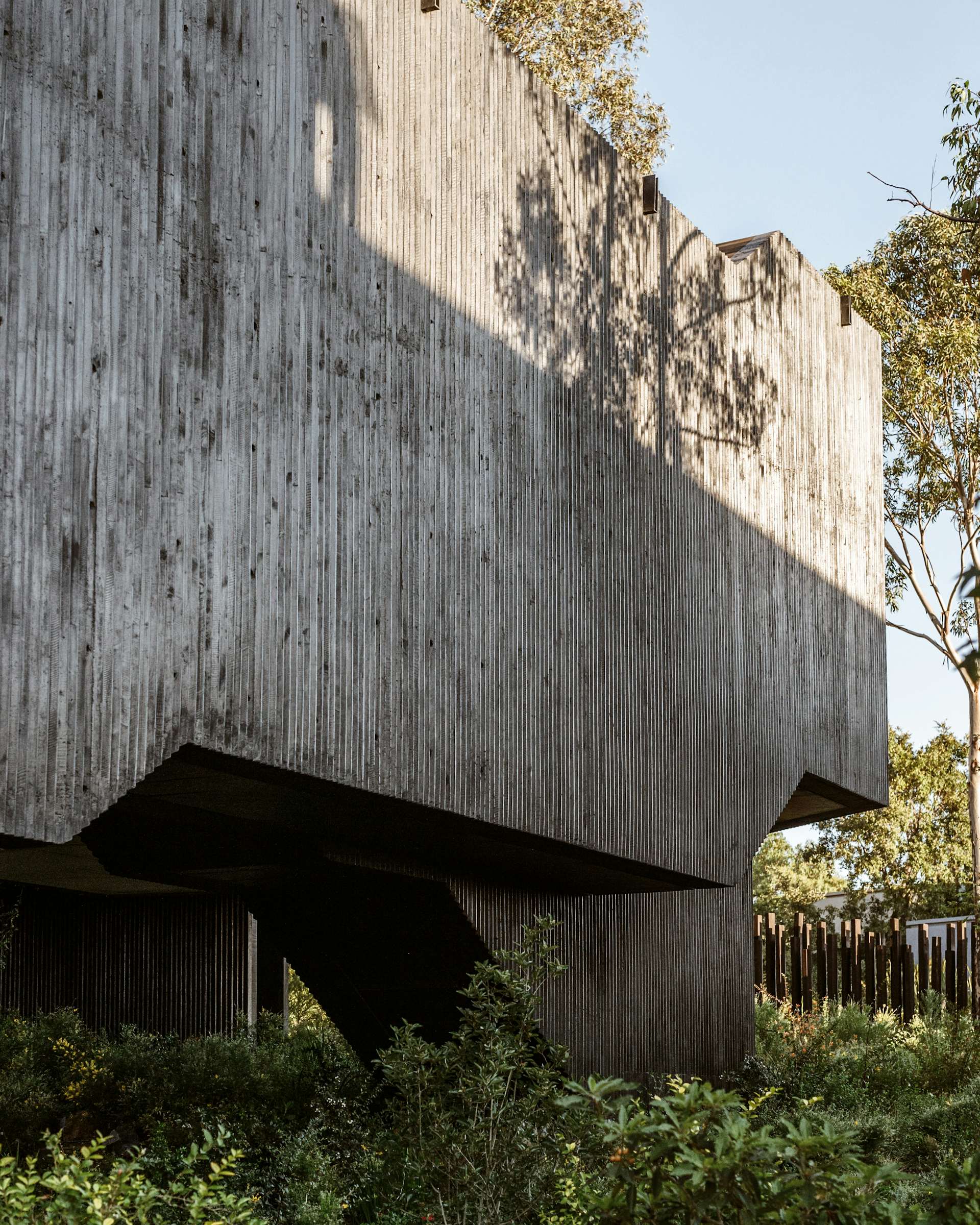 Jorge and I end our walk-through there, where we hide from the sun and sit in an outdoor room with stone stools and a large rock that works as a low table. Afterward, as we approach the street exit, I am reminded of the mismatch of the neighboring houses and the dream of a picturesque suburbia that was. Casa Pasiddhi stands undisturbed, an ideal sanctuary for this family of four. Messi leads the way to the fence, and Jorge reassures me the spacing of the poles was measured so that the dog can't get through: "He's eleven years old—he wouldn't make it out there."
Project Credits:
Architecture: Rojkind Arquitectos
Design: Mutuo Studio
Photography: Luis Garvan / @luisgarvan
Originally published July 12, 2022 on dwell.com