Set atop a hill in what used to be the northern outskirts of Quito, Ecuador, a haven of devotional Spanish colonial art, indigenous Andean treasures, and bullfighting instruments and paraphernalia greets me. Overlooking the Pichincha volcano, the casa-museo of octogenarian artist Oswaldo Viteri is home to a jaw-dropping collection from all periods of Ecuadorian art, as well as pieces from other countries and his own paintings, drawings, and sculptural work. The house was built by Viteri himself, a trained architect, in the early '70s. The polished clay tiled floors and wood-beamed ceilings recall early vernacular constructions. Viteri, at the age of 88, still reads and works every day in his house, among the white-washed brick walls and the contrasting dark red curtains falling heavily onto the wooden floors, reminiscent of a bullfighter's cape.
My father was an architect. But if you'd have asked him what he would've liked to have been instead, he would have said torero. Viteri would agree, had circumstances not favoured his true passion for art. I've often witnessed how bullfighting lures the minds of art and architecture enthusiasts—a fellow college classmate of mine dropped out to become a matador—however, the art of bullfighting is only one of Viteri's passions.
Viteri grew up in the early '30s in the small Andean town of Ambato. He recalls spending time on his grandmother's farm, discovering the countryside, the ancient traditions of caring for land and crops, while also happily roaming with the children of the farmers. He also attended corridas at the Plaza La Macarena from a very young age and was always intrigued by his grandfather Julio's passion for cockfighting. His training as an architect gave him expertise as a draftsman, while his upbringing provided empathy towards cultural identity. Since very early on, Viteri's practice has been informed by an interest in anthropology, folklore, and genealogy. I spoke with Viteri's daughter Ileana—an architect, professor, and former gallerist—about growing up in Viteri's extraordinary world.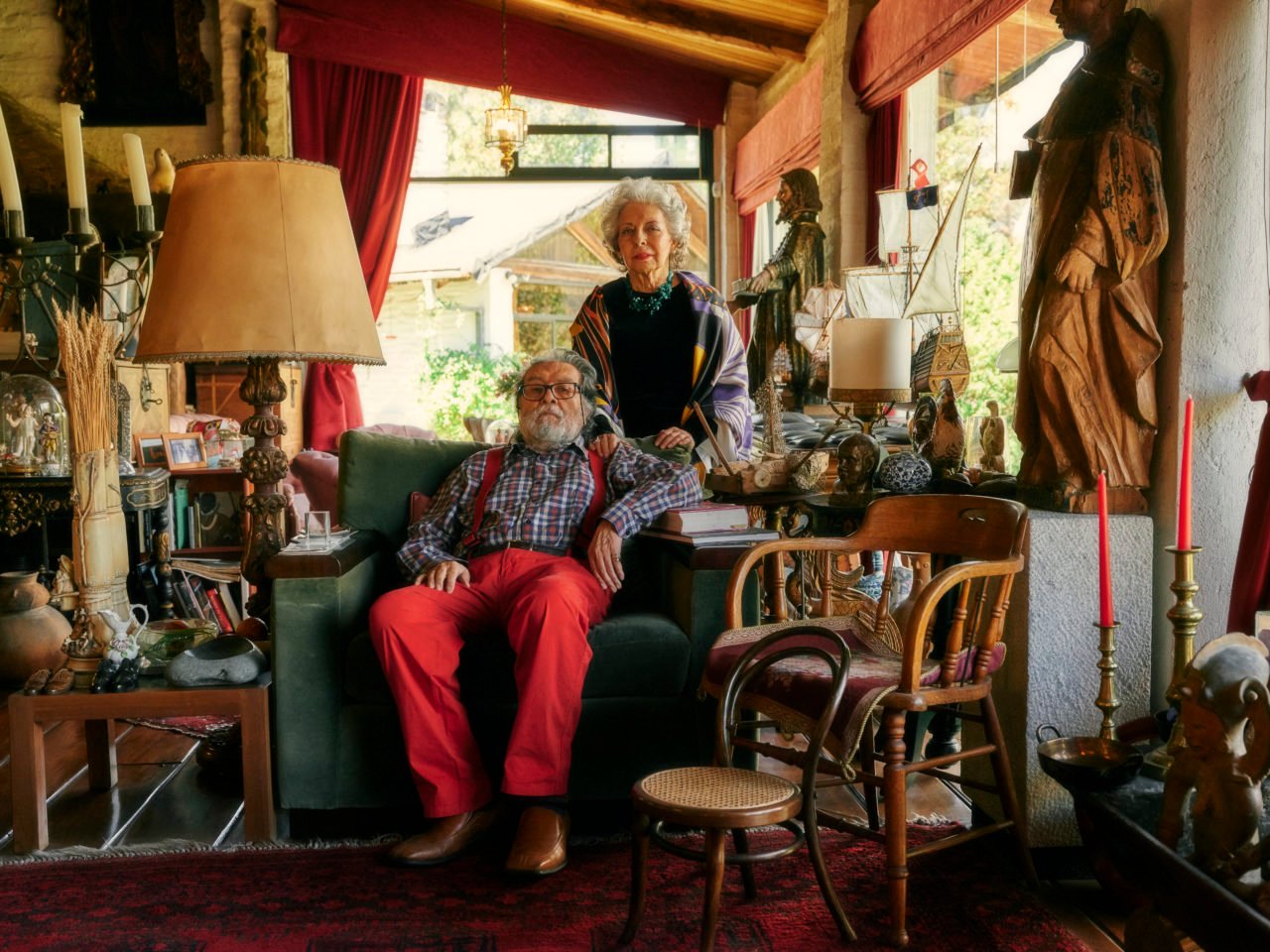 Your father trained as an architect, but did he ever practise the profession?
Just after graduating he worked in an architect's studio drawing perspectives. He did take part in a few public projects, and he even helped design the Congress Hall during the late '50s or early '60s. So he did have a bit of experience in architecture, which I think was very interesting for him. As a student, he was an amazing draftsman, and on the teaching side he also had a relationship with architecture from a young age. He was sub-dean of the Faculty of Architecture at the Central University of Ecuador, where he also taught art for 30 years before retiring. He never really fully committed himself to architecture because his true passion has always been art.
Did he grow up in Quito?
Yes, but he came from a provincial city called Ambato. He was the son of a well-known obstetrician who also dabbled in politics, serving as a mayor and congressman, among other things. He sent my father away to the Colegio San Gabriel, a Jesuit boarding school—the most important one at the time. He was there from the age of 12 to the age of 18, but afterwards he stayed in Quito to attend university. At that time, he was also taking private lessons from two masters, Jan Schreuder and Lloyd Wulf, a Dutchman and an American, who both moved to Ecuador in the '50s for very different reasons. At a point, they turned their homes into art studios where they gave private classes. Of the two, Wulf had a particularly profound impact on my father's training in art, even though he had been painting and drawing from a very young age. It's not just because he is my father, but he is objectively a virtuoso. If you see the drawings he did when he was 15 or 16 years old you would not believe it.
Where did he get such discipline from?
He had a very strong emotional connection with his father, who was a very strict and reserved man. My father admired him greatly. But I think the formal education he received at San Gabriel, a Jesuit school, was naturally very important. It gave him a sense of discipline and order that stayed with him throughout his life.
His true passion has always been art, and he knew that he wanted to devote himself to it. But he also taught part-time classes at the university, which, besides being another interest, gave him a little extra income and a sense of stability. All his spare time was spent working in his workshop. From early on he participated in public shows, salones, as they are still called here—art contests that gave out awards. They started conferring prizes at the beginning of the 20th century, and to this day they are still the major reference and form of exposure for upcoming young Ecuadorian artists, even though I believe they have lost a little prestige over the years. My father won a few awards—the Salón de Julio and the Mariano Aguilera Award in the '60s, for example. All of these helped him to strengthen his will and purpose.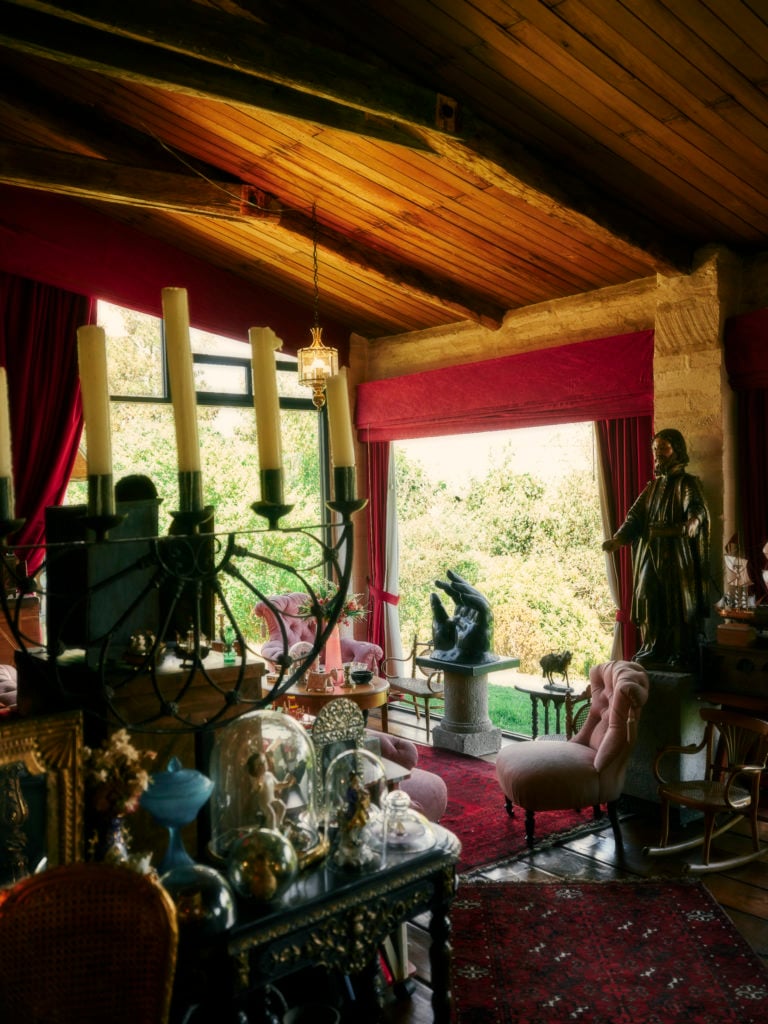 How did your father's art collection begin?
He was the only grandchild to receive an inheritance from his grandfather. He left him a little money and two colonial pieces, two little angels, which gave a start to his collection and occupy a privileged place in his house still today. As a matter of fact, this house was built between the years 1973 and 1976, when I was around 15 years old. For many years before that, we changed houses quite a few times. We were a sort of gypsy family, carrying with us paintings and saints, and even antique doors. It was a wonderful experience, because it was always a constant adventure!
Anthropological study played an important role in your father's life as well, didn't it?
Definitely. From a young age, my father was very involved in anthropology, mainly the study of folklore. In addition to the masters Schreuder and Wulf, who had an immense impact on the cultural scene here in Quito, later there was the presence of Paulo de Carvalho Neto. He arrived during the '60s and was the greatest folklorist in the Americas at the time. He came from Brazil to do research but decided to create a group of anthropologists—not professionals, because a university program did not really exist at that time in Ecuador. And certainly there was no regard for popular art or folklore. But he was able to put together a group of people from the world of art and culture, such as Oswaldo Guayasamín and Olga Fisch, who were at that time, without a doubt, some of the most important people in these fields. On the one hand, Carvalho Neto helped provide them with a set of tools, from an anthropological point of view, to carry out research and fieldwork. And he also helped them to make the most of their own strengths and skills, including the possibility of drawing objects, traditional patterns, and ancient craftsmanship. Sometimes they also used photography or they recorded people, as they set out also to gather all the oral tradition for the very first time, everything that had been passed down from generation to generation among the country's indigenous population. This work mostly took place in the valleys and mountainous regions of the Ecuadorian Andes.
After such a unique experience, how did this research reflect on your father's artwork?
I think that this experience and learning truly had an impact on my father's most important work, his ensamblajes or assemblages, which are his most highly valued series of art pieces, shown in museums and major exhibitions. But I also think it helped to generate a series of important doubts. His work had become much closer to gestural abstraction in the mid '60s, very much in line with the avant-garde and North American movements that were linked to action painting and abstract expressionism, when New York was dominating the art scene with Jackson Pollock at the forefront.
But there was a breaking point around 1968 when a conflict began to surface within him—at least, this is what he told me. He started to ask himself once and again: 'What does cultural identity really mean? What does it mean in regard to my artwork?' This happened, as I said before, after years of work and research also at the Ecuadorian Institute of Folklore, which was founded in 1961, where at a certain point he became its director. They were even publishing magnificent books on popular art and folklore. This was something that did not exist before, and I am not just talking about the material records or the conceptual approach and validation; there was a lack of awareness that all of these could be of fundamental cultural importance.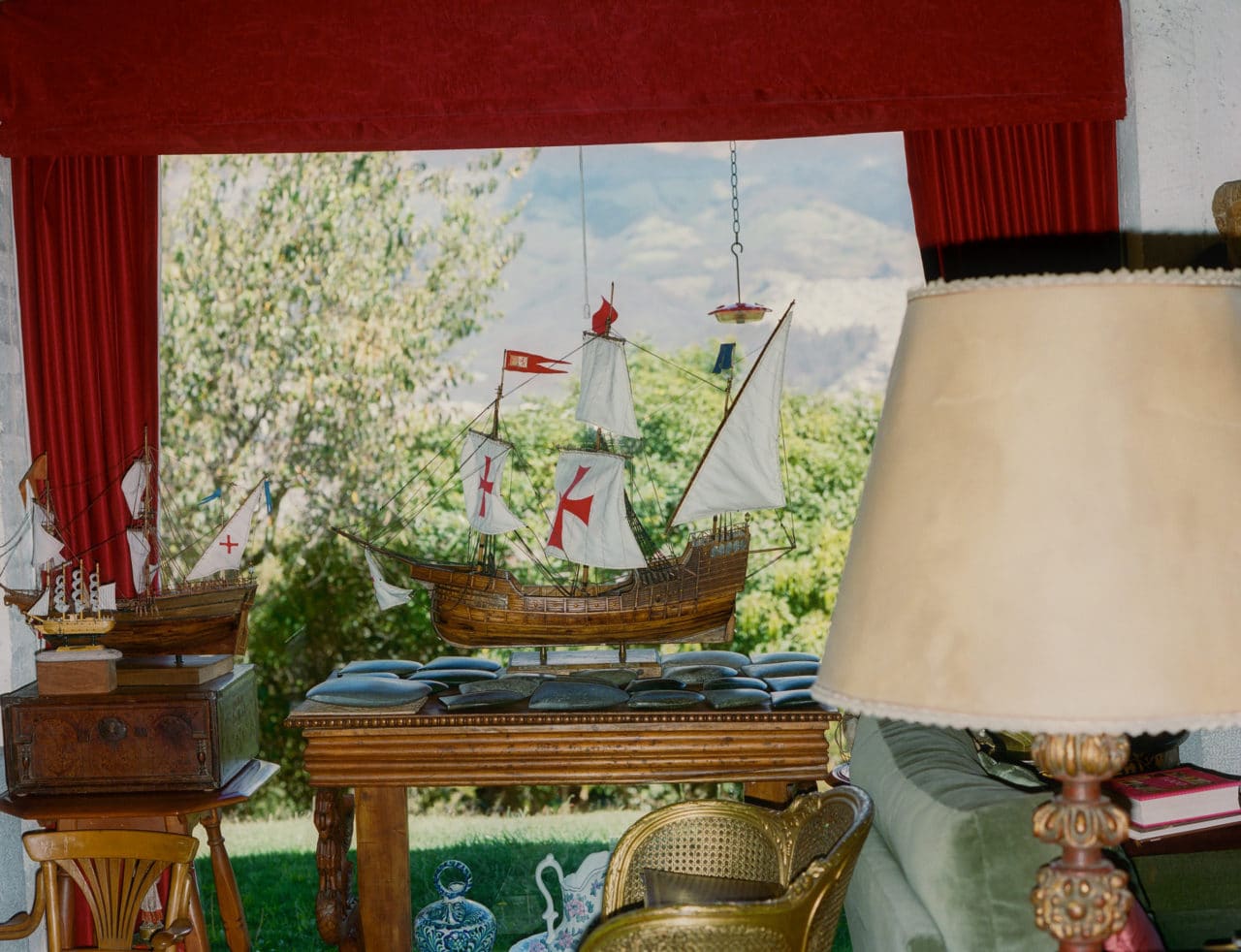 So how did this interest in both colonial and popular art continue to spread?
In the '60s, a certain phenomenon began to occur, and that's when many renowned artists, such as Eduardo Kingman and Oswaldo Guayasamín, started their own private collections, mainly featuring colonial and pre-Columbian art. Guayamasín already had a fantastic museum-house. They played a vital role in safeguarding the cultural heritage by purchasing works of art that were disregarded and even thrown out by convents and churches in small cities and towns. Unfortunately, many priests started to dismantle their churches in favour of the modern era, regarding the old pieces as outdated and even considering them as rubbish. My father, who joined the safeguard movement among collectors, has a few colonial pieces that had been cut up with a saw; they were chopped up for firewood! Those priests thought they had to command new images or restore them to achieve a modern look, so by altering them, those old sacred pieces ended up being destroyed. Also, they started to sell them as much as possible.
In the collectors' enterprise there was not mainly a religious, ceremonial, or devotional meaning, but a cultural and an aesthetic one. At this point, artists also became a type of custodian of Ecuadorian patrimony, since colonial art—and especially that which belonged to the famous Quito School—had always been associated with the Church. In this sense, when my father went to fulfil his anthropological research, he often came back with some amazing art pieces that were basically disregarded or considered useless.
Did you ever go with him?
We used to go and do research together as a family, along with my sister Carmen. We were the closest in terms of age; we have another sister, Maribel, but there are 12 years between us, so she missed out on a lot of these wonderful experiences. It really was amazing, always being guided by a permanent curiosity about this world around us, trying to find out who we are and where we come from. And, at the same time, we were giving a face and value to something as unique and important as the native tradition and culture in a society as racist as ours—especially at that time. Of course, there were always some wonderful exceptions, but beyond the beautiful landscape, there was often an unappreciative gaze on our own reality.
The house gathered all of this together, because it is a certain kind of story of my father's life—his travels, concerns, and interests. It is also a place where pre-Columbian, colonial, and folk Ecuadorian art shares the same space with European, Eastern, or just modern art of the world.
Was your father very active in politics?
My father was always an avid reader. He never joined any political party like lots of his contemporaries, who were militants and also became privileged precisely because of their political connections. This was not my father's case. He always believed that art had to be free from all extra-artistic influences. His only stance was, 'I am against dictatorships, whether left or right; I believe in freedom'. He loved reading philosophy, theory, and history of art, history in general. He is still a big reader to this day. It is impressive how he still manages to read so much!
By the way, and regarding your previous question on the impact of folklore research, there was a point when he almost gave up painting to fully dedicate himself to anthropology. He felt that he couldn't express in his abstract paintings the need to single out his own understanding of what it meant to be Latin American and to come from the Andean culture. That is how he ended up doing assemblage, although it actually happened by chance, one of those things that are almost related to Zen and coincidence. After reaching a point almost of desperation, he had a painted surface on a canvas already, perhaps not knowing what to do next; then, intuitively, he started adding and gluing objects in juxtaposition to one another, things that he had been gathering and that were lying around in his studio. These objects had a strong symbolic meaning because they came from the real world, the world outside of art. After that illuminating and changing experience, he started to use in his assemblages such objects as folklore rag dolls, ripped sack cloths, all belonging to the native ancient traditions, and rich colonial chasubles to bring dialogue and contrast with the European Christian legacy. That was the start of a new language in art.
Has your father ever been a religious man?
He comes from a family where my grandmother was of course religious. She used to go to mass every Sunday, and my father went to a Jesuit school as well. But my sisters and I were not brought up in a typically Christian or bourgeois environment. Quite the opposite, in fact. My mother comes from a family of intellectuals and mainly atheists. When I was a little child, I was the only one who wanted to become a Christian and to go to mass, because of my grandmother. Later on, my parents made it difficult for me to receive my first communion, in terms of demanding true conviction.
I'm asking mainly because of the wall covered in figures of Jesus!
The devotional aspect of a piece is one thing, and its artistic aspect and aesthetic significance is another. My father was brought up in an environment where my grandfather was liberal, bearing in mind that in Ecuador, being liberal meant the opposite of being conservative. But my father always had a sense of the spiritual and the transcendent dimension, and respect for a superior order. And that has always been present, even to this day. I think that nowadays he can talk more openly about God, but only in the sense of an extraordinary respect for what goes beyond us—of an order that is invisible but that can be made visible through art, or can be made audible through music, or given a name through the word. At the end of the day, that is the purpose of art.
And in a sense, that is what the house means; it is an expression of his beliefs and life, his interests and passions, his unique appreciation of a highly sophisticated colonial piece and, at the same time, of a humble wooden spoon made in some remote village in the Andes. All living together, as a folkloric dance costume does with a rich gold embroidered chasuble.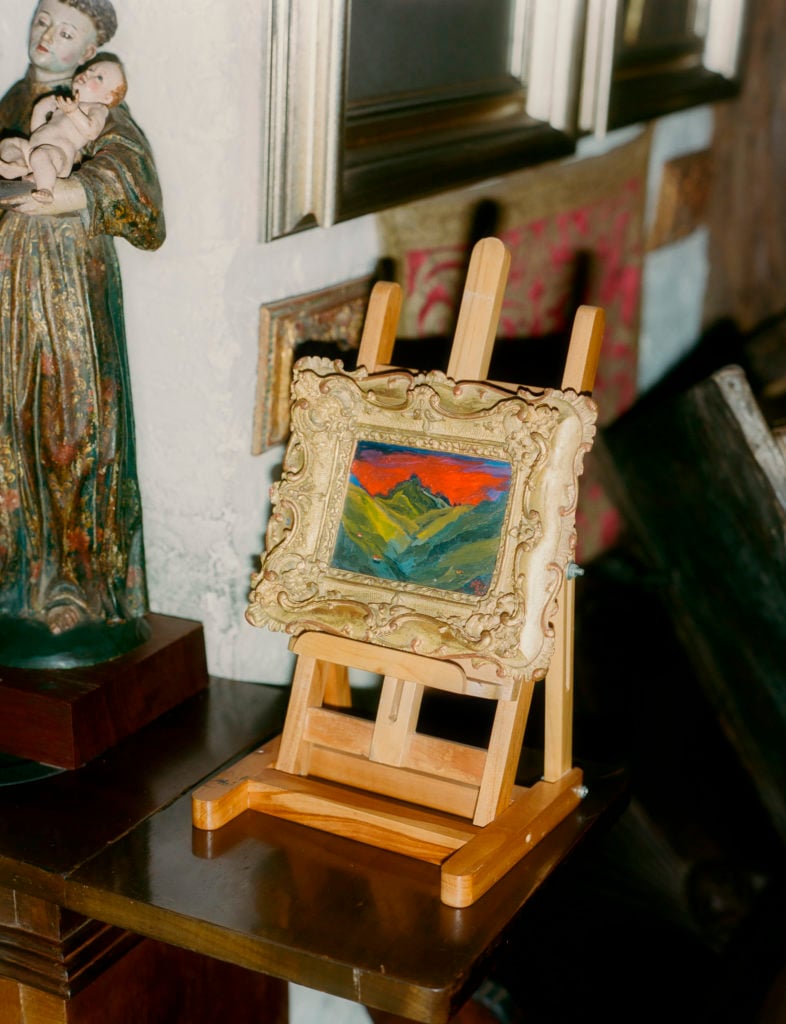 However, your father never chose to pursue an academic education in art.
Back then, we had in Quito the School of Fine Arts, which was not a part of the university. It was an academy where students could go when they were 14 years old. It was actually opened in the mid 19th century, but then it closed and was reopened again in the beginning of the 20th century. All of the most important artists from the first half of the 20th century studied there. But in the '50s and '60s, in a way the school had become outdated, set back by focusing only on social realism, a particular form of expressionism, which was highly influenced by Mexican muralism. It couldn't free itself from this aesthetic paradigm. Although the school was not really like that in the 19th century, by this time there was a prevailing idea that one had to follow only those premises if one was to be an artist. But for the new generation of aspiring artists, like my father, Enrique Tábara, Estuardo Maldonado, and other contemporaries, this was obsolete. The truth is that many of them still studied there, some even travelled away and left—except for my father, because he never studied art in the academy. He is basically a self-taught artist, from an academic point of view. He took painting and drawing classes from those fantastic masters I mentioned before.
In his memoirs, which were published by Trama Ediciones in 2007, Oswaldo writes that Lloyd Wulf got him into Zen Buddhism.
My father never converted, but Lloyd did introduce him to Zen Buddhism—which was undoubtedly behind the work of Jackson Pollock and action painting, both of which he cared for deeply. And it relates to the notion of chance, of flow and time, of the artist as a type of vehicle or medium capable of receiving signals from some far-away corner of the universe. And magically communicating them to the world that we are living in. He was never a Zen Buddhist, but he did adopt this disposition and understanding, which are to be seen in his drawings. Plenty of his India ink drawings are indeed very Zen in spirit and manner.
Lloyd also introduced him to the history of modern art and to certain figures of the intellectual modern avant-garde, such as Herbert Read and Elie Faure, or to the texts of Martin Heidegger and Wassily Kandinsky. In this sense, Lloyd had a very important influence on him from an intellectual and theoretical point of view. My father always had several philosophical and theoretical concerns but was never a militant artist in the conceptual domain. As a matter of fact, he rejected intellectuals with oversized heads, which ended up causing him a lot of problems. He was always very free and never wanted to be a part of any group. He was to follow his own way, his own call, but this also was done at a great cost.
In an interview, your father said that if he were not an artist, he would've been a bullfighter.
Definitely. In the family, we are all big bullfighting enthusiasts. Let me tell you something: if I had been a man, I also would have loved to be a bullfighter! The truth is that my father has been around bullfighting, as you mentioned before, his whole life, because of my grandfather. When he was secluded in school, he even listened to the corridas on a small radio, in hiding. So he is an aficionado, thanks in part to this family tradition, but over the years, and because of his passion, he has also acquired an incredible amount of knowledge on the subject, something that strongly appears in his work as well. He had close friendships with many bullfighters and met many others. When the bullfighting festival opened each December, bullfighters for many years came to our house. So, we grew up surrounded by figures such as Paco Camino, Palomo Linares, Ortega Cano, or Javier Conde.
And they're all so handsome!
Yes, indeed! There were many parties held at home; it was really a fantastic atmosphere. My father has done many wonderful portraits of bullfighters.
What is the story behind the place where the house was built?
It is a shame, because sadly it became rundown. When my father bought it, the land was very inexpensive. It was on the outskirts of Quito and was a result of large agricultural properties being divided into smaller pieces of land. Quito basically ended at the airport, and this spot was beyond the airport. I was a child when he bought it, and I remember we all planted a forest of pine trees, which was there for quite a few years. These plots of land were meant for something called family gardens. My father was interested in this idea, so he bought 5,000 square metres. This is where he lives now. But because it was a little far away from everything, except the Pan-American Highway, there was no real access, not even a street. There was a chakiñan, which in the Kichwa language basically means a trail you can walk along. So my father had to build the road himself. There wasn't any city piping either; back then we used septic tanks. When he finally finished building the house, it had breathtaking views over the Pichincha volcano. It is on a hill and, when we moved in, we were completely alone. Except for the occasional cow!
Unfortunately, because we didn't have any piping for many years, the other plots of land started being used for industrial storage warehouses. That drastically changed the landscape, as well as the original idea of family gardens. Today, my father's house is the only one left. So, that is what happened. Our idea is that the collection can move to a museum or a foundation. The real problem is the house itself, because it doesn't have the right facilities and it is not in a good location anymore. It is sad because the house is amazing and it has its own history, spirit, and life.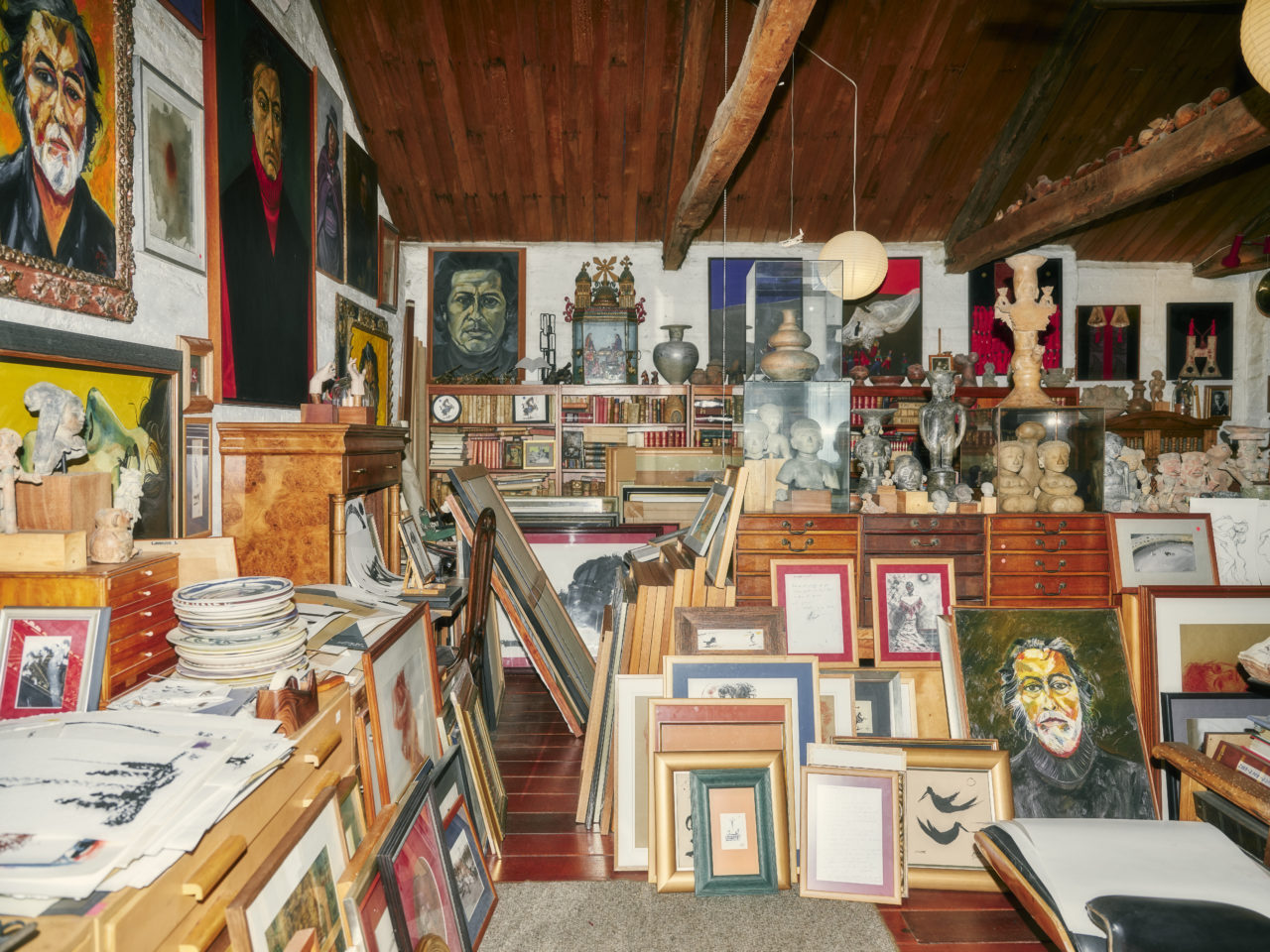 Is your mother an artist too?
My mother dedicated her life to accompanying and supporting my father. It is true that her parents were both intellectuals, and when she was young she lived in the US and Switzerland, because my grandfather was a diplomat. She is a very interesting and beautiful woman, and back then she was one of a kind in Quito. That is exactly how she met my father and how they fell in love. They met in a bookshop while looking at art books. Obviously, my father had already seen her; since my mother was so beautiful, my father had singled her out long before. So he respectfully approached her and started talking; he offered to do a portrait of her, and the rest is history.
Originally published in apartamento.com